Outdoor Umbrella Types and Uses
Escape from the sun and enjoy your patio!  Shade options are plentiful when you are planning your outdoor space. 
Market umbrellas are the most popular options and are available in a wide range of shapes and colors.  The 9' market umbrella is perfect for most round dining sets with a 48" to 54" table.  This size will cover your guests and since most have tilt options, you can shield them from the sun at any angle.  Oval and rectangular tables are easily shaded with an 8' x 10' rectangular umbrella.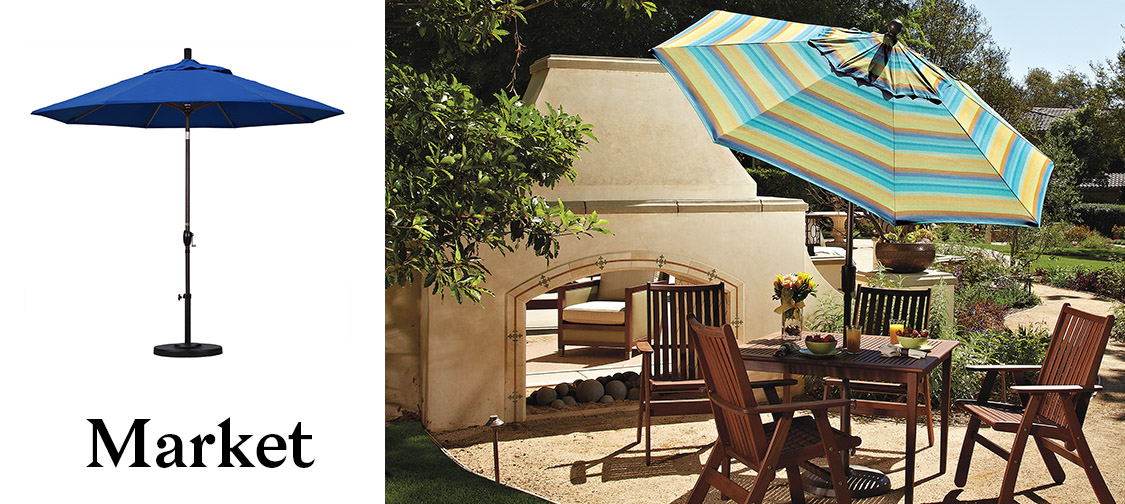 Cantilever umbrellas are the most effective for seating areas as they can span up to 13' in diameter and have the added benefit of an off-centered pole but they can certainly be used over a dining table.  Maximum coverage can be achieved with the tilt feature that allows you to block the sun regardless of the direction of the rays.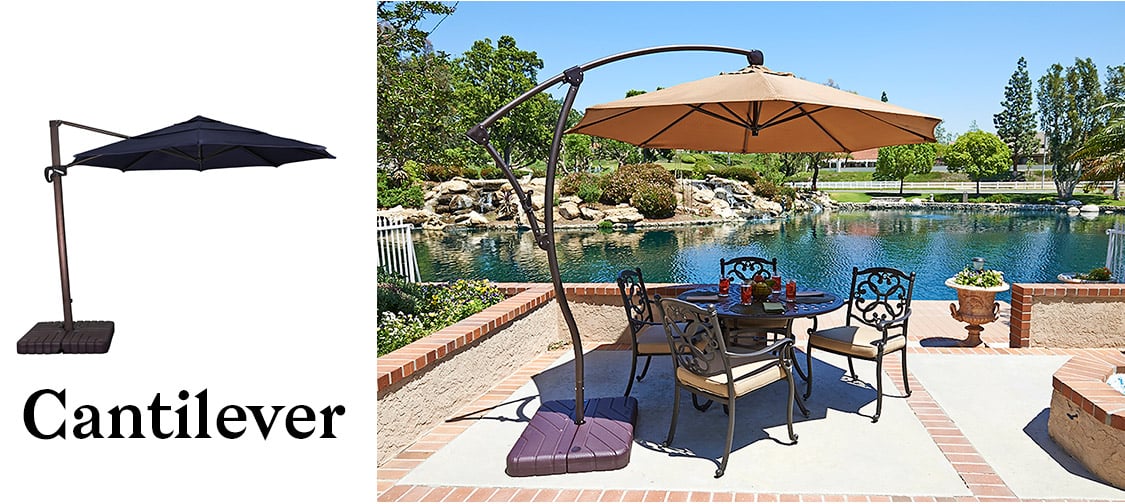 Selecting the right umbrella base for the job is critical.  Using a base that is too light can cause your umbrella to lean or easily tip.  Don't rely on your table to support your umbrella.  Larger market umbrellas (9' and 10') should use a base with a minimum weight of 50 LBS.  Umbrellas larger than 10' need a base with a minimum weight of 75 LBS or more.  It is always better to go heavier than lighter. 
Visit our store to see the full selection of patio market umbrellas, cantilever umbrellas, umbrella bases and more!  We feature Treasure Garden Umbrellas and California Umbrellas on our showroom.  Don't see a color that you like?  No problem!  We can special order over 200 different Sunbrella, Outdura and Pacifica performance outdoor fabrics!  Special orders can ship as quickly as 10 days!