Ratana Genval Collection

Contemporary style featuring an intertwined pattern of grey weather-resistant rope woven around a powder-coated black aluminum frame. The faux concrete pattern aluminum table tops add an organic element to the collection.  
Ratana features:
Polypropylene rope for longer life with built-in UV inhibitors to prevent fading
Aluminum frames are fully welded with reinforced arms for strength and durability
Quick Dry reticulated foam seat cushions that will not hold water with the added protection of a fungicide to prevent mold and mildew.  Seat backs are encased in a water-resistant sleeve and partitioned horizontally so they will not pack down over time.
A comprehensive range of over 100 Sunbrella fabrics in its upholstery stock book presents you with the opportunity to customize your furniture to create a style all your own. Special orders ship in approximately 3 weeks.
| | |
| --- | --- |
| Black Finish |  Grey Rope |
Ratana Genval Outdoor Dining and Sectional Seating
Genval Dining Chair  22.5" W X 24.5" D x 33.5" H
Genval Side Dining Chair  20" W X 24.5" D x 33.5" H
Genval Club Chair  44" W X 35" D x 29.5" H
Genval 2.5 Seater Sofa  83" W X 35" D x 29.5" H
Genval 2-Seater Left Arm  75" W X 34.5" D x 29.5" H
Genval 2-Seater Right Arm 75" W x 34.5" D x 29.5" H
Genval Armless Club Chair  27" W x 34.5" D x 29.5" H
Genval Corner Chair  34.5" W x 34.5" D x 29.5" H
Genval End Table  22" W x 22" W x 21.5" H
Genval Coffee Table  47.5" W x 24" D x 16.5" H
Genval 38" Square Dining Table  38" x 38" x 29.5" H
Genval 84" Rectangular Dining Table  84.5" W x  38" D x 29.5" H
Ratana Genval Outdoor Dining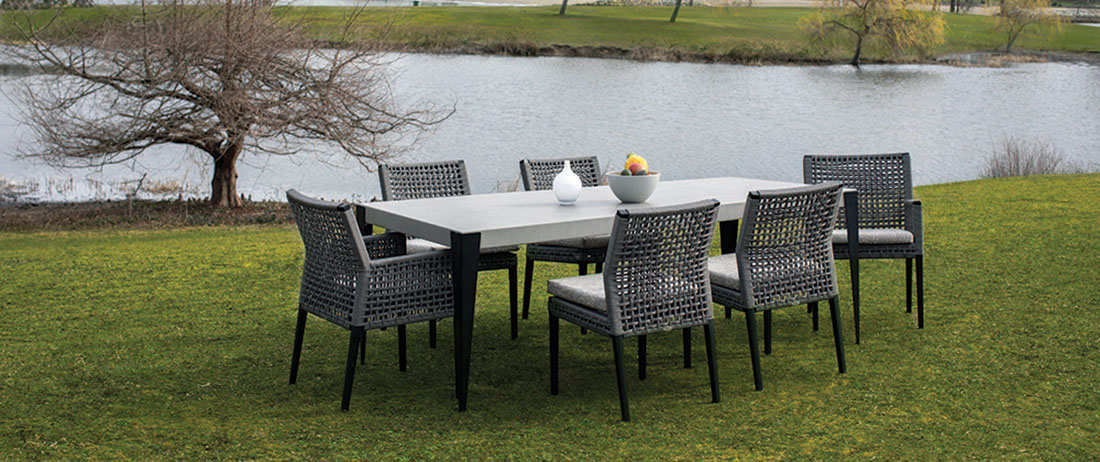 Shop all Ratana Outdoor Furniture