It may be winter but our sale prices are hot! Limited stock available at these prices!
Our website does not reflect sale prices nor do we have everything online that we offer in our showroom.  Come visit us to see over 3,000 square feet of showroom displays! 
Conveniently located off I-10 & Hwy. 30, next to Cabela's in Gonzales. Hours: Winter Hours Monday thru Friday 10 AM - 5 PM & Saturday 10 AM - 4 PM
The "kamado" style of cooking has been around for centuries.  It revolves around the concept of uniquely shaped cooking vessel fueled by wood or charcoal with drafting at the top and bottom of the vessel.  The walls of the vessel are thick and cooking is done with the lid closed in order to better circulate the heat around the food.  The typical shape of the vessel is round, smaller at the bottom with a large dome lid.  The kamado can be used for grilling, smoking, roasting and even baking.  Although there are many variations of the kamado available, only one stands out as the most versatile – Primo Ceramic Grills. 
Why Primo Ceramic Grills?
Patented Oval Design
Larger grilling surface area than round kamados
Offers true 2-zone simultaneous direct and indirect cooking. Grill steaks and other foods at a higher heat on the direct side and roast seafood or vegetables on the indirect side.
Only Ceramic Grill Made in the USA
Premium quality ceramics are manufactured in Tucker, GA.  Other brands are made in China, Mexico or other countries
Best-in-Class Warranty
Primo offers a limited lifetime warranty backed by a 20 year guarantee of all ceramic parts along with 5 years on all metal parts, 1 year on all cast-iron parts and 30 days on the thermometer and gaskets.
Primo Versatility
Primo Ceramic Grills are available in 3 oval sizes and of course, they do offer a standard round version for those who need a smaller grill. 
All grills are offered as grill only (for those who are building an outdoor kitchen area and will not require a cart or table); grill with table (many table options and styles are offered from steel to teak); and cart with side shelves.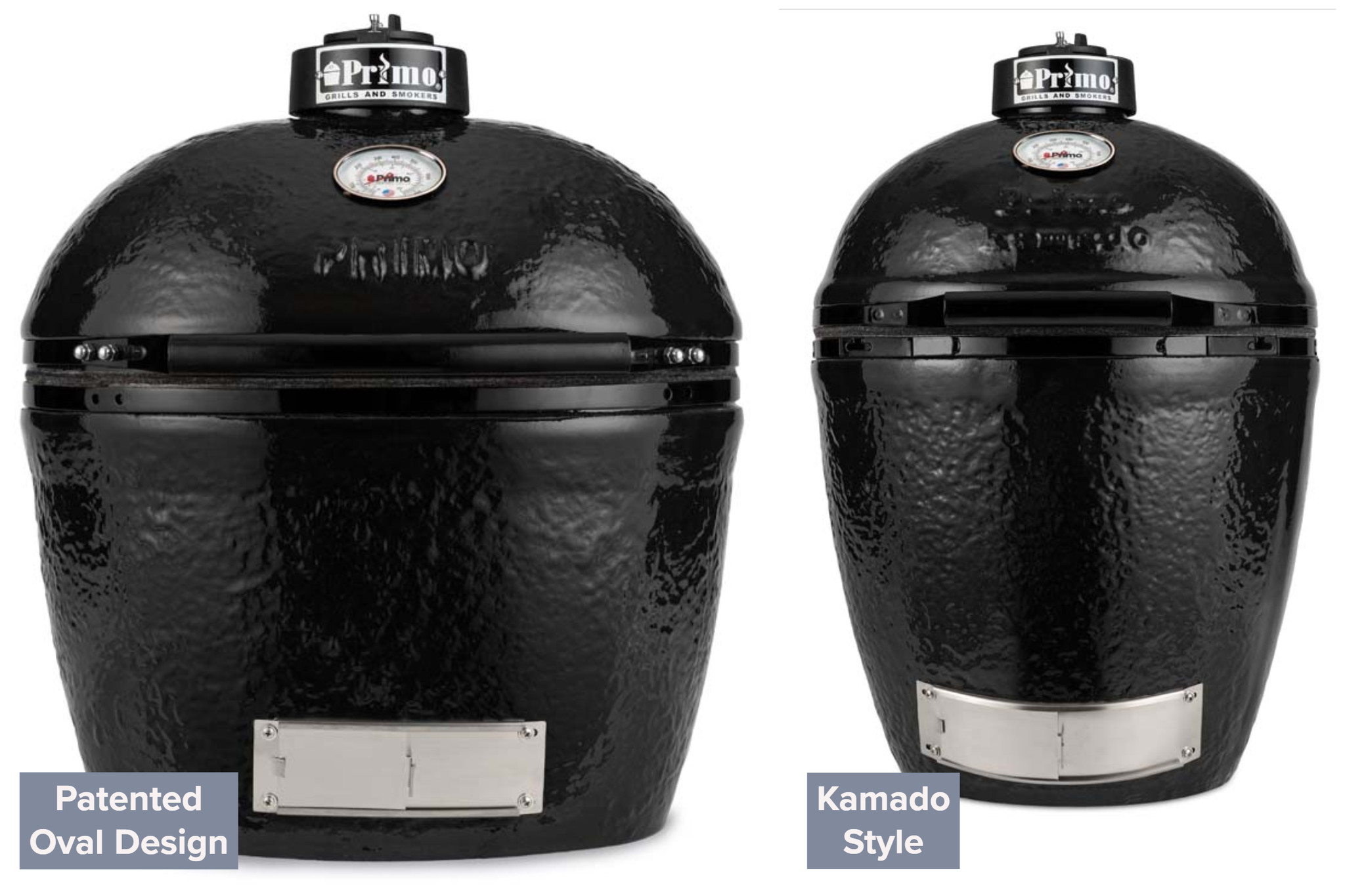 The Primo JR 200 model is portable when using the GO Cradle and optional base.  The Primo JR 200 surpasses all other portable ceramic grills with 210 inches of cooking area. Grill, smoke, bake or roast for 10 or more people wherever you want to GO.  It's perfect for tailgating and camping.
Popular Cooking Configurations
Primo's oval shape combined with the available accessories create more than 69 different cooking configurations.  No other grill (gas or charcoal) offers so much versatility!  Grill, bake, roast or smoke any food with Primo.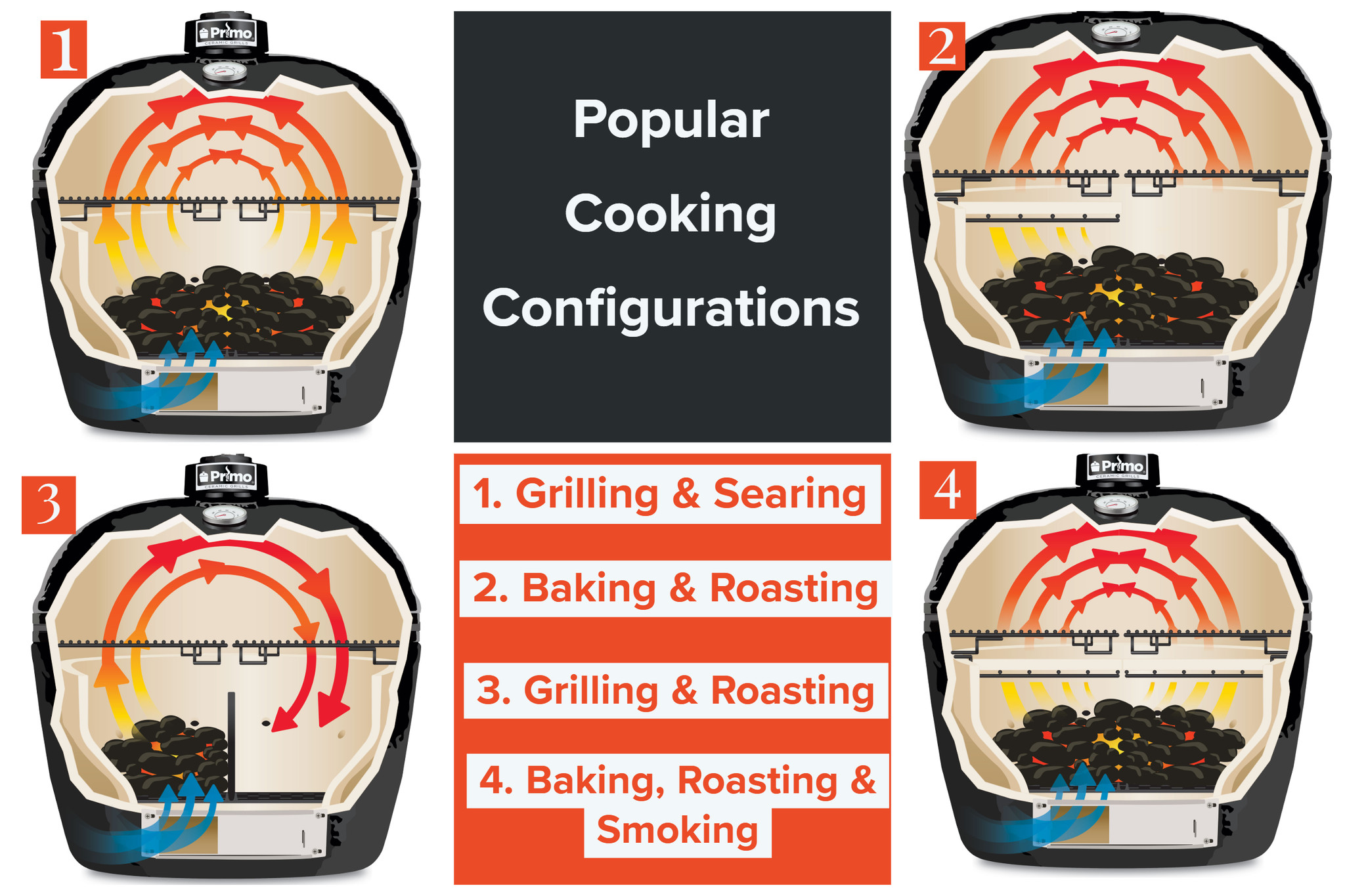 Primo Models
Cart & Table Options
Most Popular – Metal Cart with Basket & Stainless Steel Top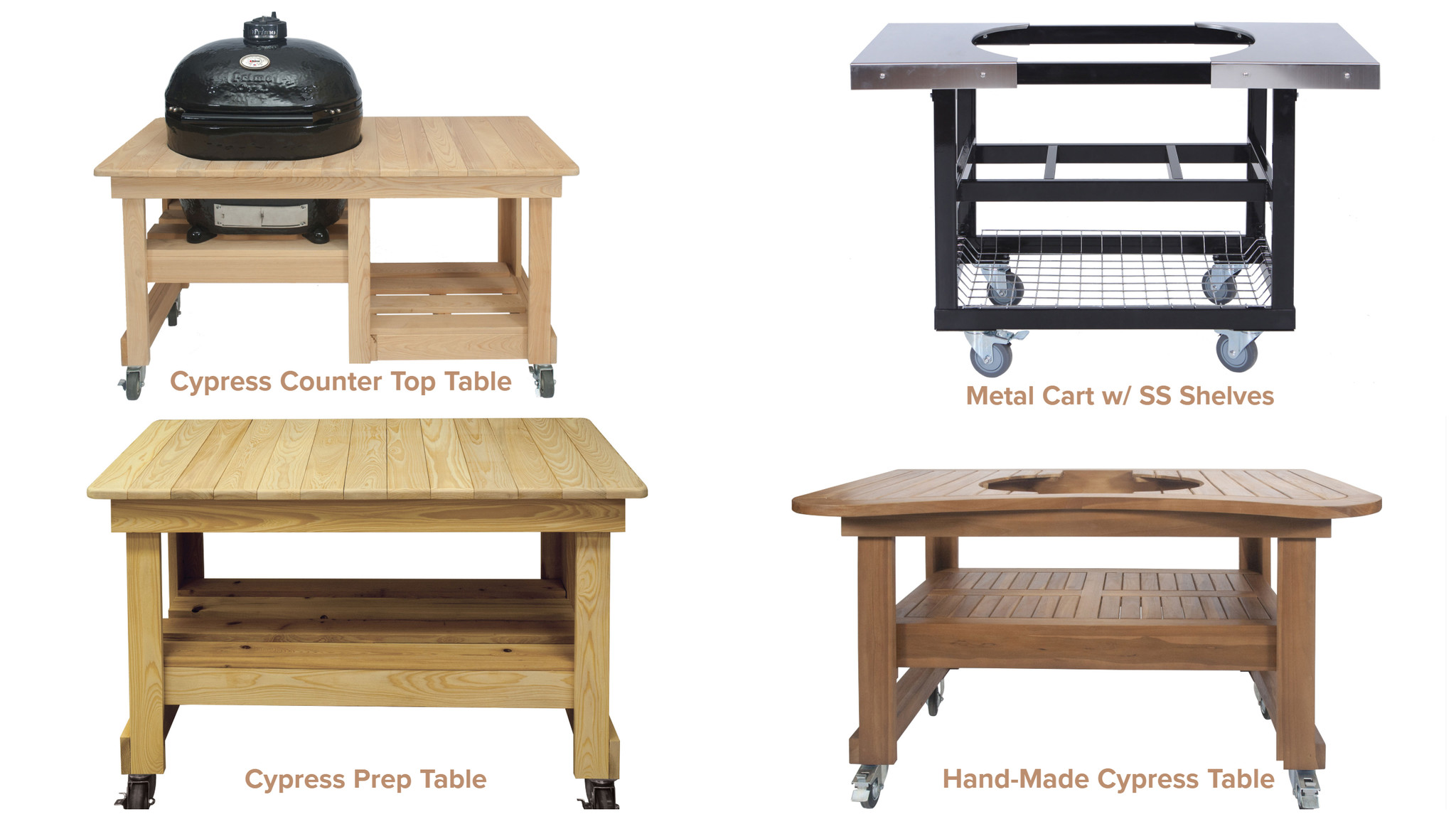 Cypress Counter Top Table
Built for additional working space and handy storage area.  Unfinished.  Fits XL 400, LG 300 and JR 200.
Hand-Made Cypress Grill Table
Available for all oval model sizes.  Unfinished.
Compact Cypress Grill Table
Designed for those who would like the beauty of a wood table but have limited space on a deck or patio.  Available for XL 400 only. Unfinished.
Cypress All Event Table
For the serious griller – this table holds one XL 400 and one JR 200. Unfinished.
Cypress Prep Table
Perfect for extending your outdoor kitchen look and gaining additional working space.  Unfinished.
All-In-One
Primo conveniently packages their grills in a popular all-in-one combination that includes the grill, heavy duty card with side shelves, ash tool and grid lifter.  This option is available in all grill sizes.