Ratana offers an extraordinary array of outdoor furniture that is timeless in design and exceptional in quality.  Ranging from traditional to contemporary, each design is unique and caters to a luxury lifestyle. Their attention to detail can be found from the design, to construction and most importantly, in the comfort. 
Ratana features:
Virgin high density resin wicker for longer life with built-in UV inhibitors to prevent fading
Aluminum frames are fully welded with reinforced arms for strength and durability
Quick Dry reticulated foam seat cushions that will not hold water with the added protection of a fungicide to prevent mold and mildew.  Seat backs are encased in a water-resistant sleeve and partitioned horizontally so they will not pack down over time.
Ratana offers 28 full line collections to choose from – 18 resin wicker, 6 extruded aluminum, 4 rope and 1 fully upholstered. All collections are salt water safe.
We are proud to display the Boston, Cape Town and Lucia collections in our showroom as well as feature Genval, Copacabana and Portfino on our website. Visit our showroom to see an additional 22 full-line collections in their catalog.
Featured in our showroom:
Ratana Boston Wicker Outdoor Seating Collection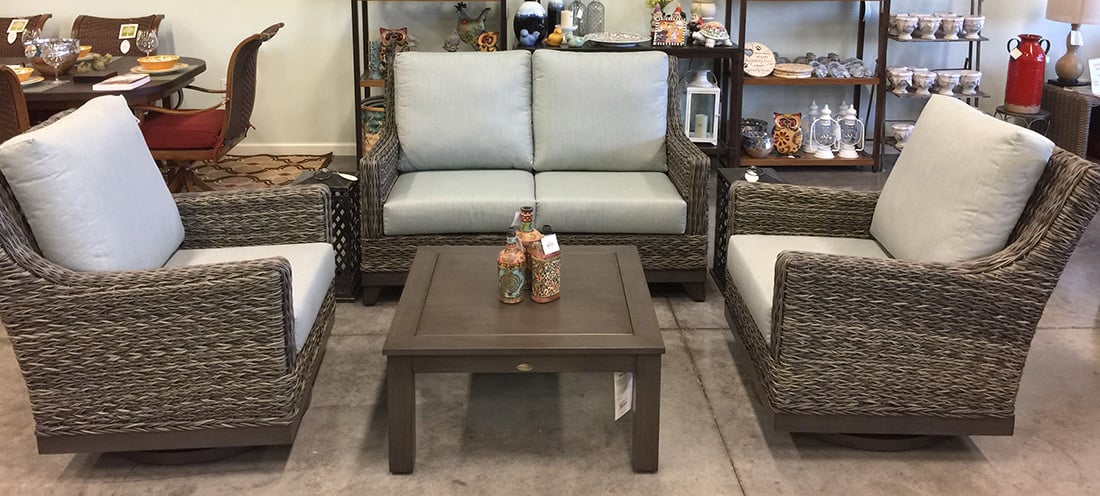 Ratana Cape Town Loveseat and Lucia Club Chair